TCNJ's expectations for fulfilling the human subjects research training requirement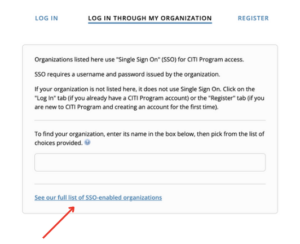 All research team members involved in the design, conduct, recording, or reporting of an active research study must be certified through our qualifying training provider (CITI), and the certification can be no more than 3 years old. When you access the CITI website you can search for our institution and log in using your TCNJ credentials. Our institution will NOT be listed in the dropdown menu however, below that drop down there is a button that states "

See our full list of SSO-enabled organizations", you will need to click this button in order to search for TCNJ.

Administrative Staff are not required to complete training.
Human subjects research training must be renewed every three (3) years upon initial certification expiration, as long as the study team member is involved on an active study.
If your certification becomes >3 years old during the course of an ongoing study you must submit a new certification through the link below to maintain active certification status. An active study that has researchers with lapsed certifications may be suspended by the IRB until current certifications are received.
Please upload your valid CITI human subjects training certificate.
*You will no longer upload your certificate with your proposal. PLEASE ALLOW 7 BUSINESS DAYS FOR YOUR CERTIFICATE TO APPEAR IN iMedris. Once you have uploaded your certificate, you do not need to do so again until your certificate has expired (the certificate is valid for 3 years).
Human Subjects Certification FAQ's
---
Steps for registering for CITI training:
Click on the "USING CITI" link above. Click "Register"
Find "The College of New Jersey" under Search for Organization box.
Click "I agree to terms of service" button.
Decide on ID, password, etc., to complete registration. If you are collaborating with a non-TCNJ researcher who needs to complete a human subjects training, they may also use the TCNJ CITI account and log in using their own personal address. If you have a non-TCNJ person use the CITI training as a component of your research together, please send an email to srcompliance@tcnj.edu with the affiliates name and institutional/organizational affiliation each time any person who uses CITI that is not a TCNJ employee or student.